UHA=YUU(pleasure)-HA(waves)
UHA (pronounced YUU-HA) is originally a"coined" Japanese word, symbolizing our wish to provide pleasure through our confectioneries, quietly and gently like calm waves. We name our confectioneries YUU(=pleasure)‐SHOKU(=food) which means "food that is fun to eat."
Head Office Building


Delicious foods are good for us, and foods that are good for us are delicious. When we get sick, we take medicines. Likewise, when people want to be healthy, they choose delicious foods. Bad-tasting foods are never suited to improve your health. UHA Mikakuto products are produced for contributing to your further health and beauty. Our corporate identity "Deliciousness is Gentleness" was thus created hoping that our wish will be realized.

This phrase represents our belief that we must take up our challenges for the future with originality and individuality in order to fulfill people's dreams. Here at UHA Mikakuto, our greatest desire is to help people pursue their dreams and enjoy healthy lives through delicious foods.

Our ultimate corporate social contribution is to provide "Better Products at Better Prices." We intently listen to people's needs and wishes while being extremely sensitive to the ever changing world. In order to realize our goal through our products, we utilize our people, resources and assets ‐the three essential elements in business‐ to their full extent. By doing so, we are able to achieve our ultimate mission of "Better Products at Better Prices." With high productivity and dedication to realizing customer requests, we will continue to invest all our resources into our products. Is that too simple and clear-cut? Yes, but this is the most essential and respectable role of corporations: Mikakuto will keep striving to achieve this goal.
Head Office Building
Electronic conference room
Patent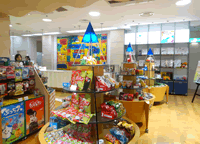 Satellite shop
Mikakuto is a pioneer in developing a full-scale intra-office information network from early times. Daily administrative works are carried out online, contributing to excellent inter-departmental communications including decision making processes.