Unrivaled High Production Technology
Underlying concept is always
Unique-Human-Adventure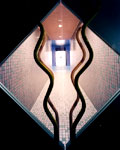 Entrance to the Nara Factory.



Mikakuto is an everyday confectionery, but in fact our production involves the use of various advanced technological innovations. The world's fastest wrapping line for the "Tokunoh (=high concentrated) Milk" candy produces 1,000 units a minute. We are the first company in Japan to introduce state-of-the-art German technology: even pharmaceutical companies are unable to make such delicate products as our "Pipin" tablet press line does. Original know-how and optimized production methods have made it possible to lower cost on the "Gummi" production line. All staffs are positioned in the respective specific production lines in a move to significantly increase efficiency and to reduce costs. The factory uses a high information network to deal with problems associated with unnecessary inventory levels.
Bears Chocolate Line
| | |
| --- | --- |
| Candy Selection Line | Tokuno Milk 8.2 Stick line |

From the environmental perspective, Nara factory has installed the latest UASB methane fermentation process wastewater treatment system. Mikakuto has received various high acclaims for its work for the environment. At the 1985 National Factory Greenery Promotion Meeting, Mikakuto was awarded the "Japan Greenery Research & Development Center Chairman Prize," followed by the "Nara Prefectural Governor Prize of Excellent Establishment for Public Health" in 1986, the "Osaka Communications, Commerce & Industry Bureau Prize" in 1987, and the "Minister of Health & Welfare Prize of Excellent Establishment for Food Hygiene" in 1990.
The Nara factory is symbolized by its expansive lawn grounds and the fancy appearance of the factory premises. As a confectionery maker we are naturally attempting to create a playful atmosphere with the concept that the factory looks less like a factory and more like a place that is fun to work in. By taking a position where 'people always come to the center' in our way of thinking, we at Mikakuto created a visually appealing environment.